WAYS TO GIVE
Donate Resource Room supplies
We give out free basic needs supplies to those in need and rely upon our community to aid with supply donations. If you or your family, business, group or church would like to host a supply drive, please contact us. We have a list of supply drive items.
Workplace giving
Speak with your Human Services Dept to set up monthly, pre-tax dollar gifting by asking to have iMPACT! Compassion Center listed as your charitable gifting organization. iMPACT! Compassion Center is a 501c3, Non-Profit Organization: iMPACT! Compassion Center, Tri-Cities, EIN: 47-3166572.
Your gift
You may make a one-time pledge or sustaining gift. Pledged gifts are paid over time on a regular payment schedule. A sustaining gift allows you to make easy monthly donations from your credit card.
Your donation may be designated to a particular program/department, or left unrestricted, which will benefit the area of greatest need.
Tribute gift
Whether as a way to honor/memorialize a loved one, or to recognize the people who provided care and support, a tribute gift given in someone's name is a meaningful way of paying tribute and expressing appreciation.
Appreciated securities
You may make a gift of stocks, bonds and/or mutual funds that have been held for at least one year. This is an especially attractive option, as you receive a tax deduction and avoid paying capital gains tax if you were to sell the securities.
Real estate and personal property
Both real estate and personal property can be accepted as gifts. A second home, vacation home or piece of undeveloped real estate make attractive gifts, as does personal property, such as artwork.
Planned gift
Planned gift is one in which the donor retains an interest and the remainder will be received by the organization at a future time. Bequests from a will are planned gifts, as are charitable trusts; gifts of real estate may also be planned gifts.
To make a donation that will count as a Qualified Charitable Distribution (QCD), please make the check from your IRA payable to iMPACT! Compassion Center, as a supporting organization. The distribution must be made by your IRA custodian directly from your account to iMPACT! Compassion Center (not withdrawn first/made out to you) or the tax benefits will not apply.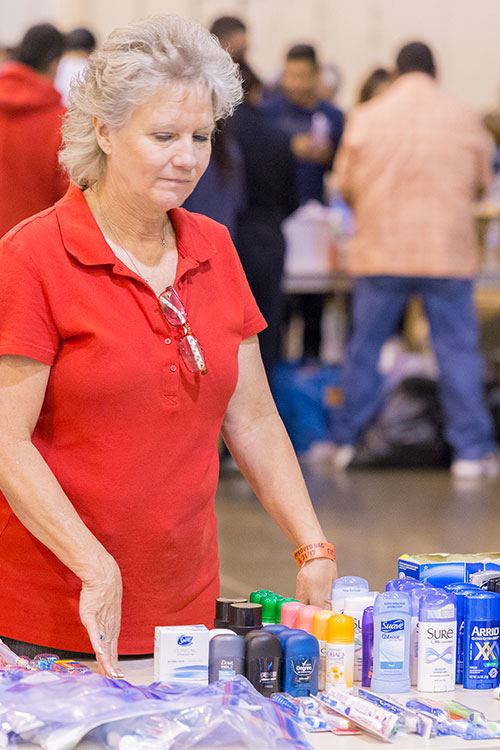 BASIC NEEDS SUPPLIES GIFTING
We have an on-going need for basic needs supplies for our resource room. These are the basics;
Food: peanut butter/jelly, noodles, sauces, soups, canned veggies and fruit, bread, beans, rice, cereal, food prep basics like flour/sugar/salt
Hygiene: toothbrush/toothpaste, deodorant, shampoo/conditioner, body soap, razors, feminine hygiene
Baby Items: diapers, wipes, ointment, formula, nursing items, baby food
Cleaning: multi-purpose cleaner, laundry/soap pods, fabric softener, dish wash fluid, sponges
Toiletries: toilet paper, Kleenex, etc
Homeless: sleeping bags, travel size basic needs care kits, hand warmers, warm hats/gloves, sweatpants/sweatshirts, casual clothes, blankets